A business have an additive advantage if it is legalised/legitimate. Its credibility increases with its incorporation with law. However adherence to these legal compliances can be a lethargic and complicated process sometimes.

Earlier the process of registration of company used to be a lengthy process. Every document was required to be submitted online i.e. A person had to go to registrar office and has to submit the documents manually. But now the whole process has been completely made online and as smooth as possible with the help of JJTax.
Types of companies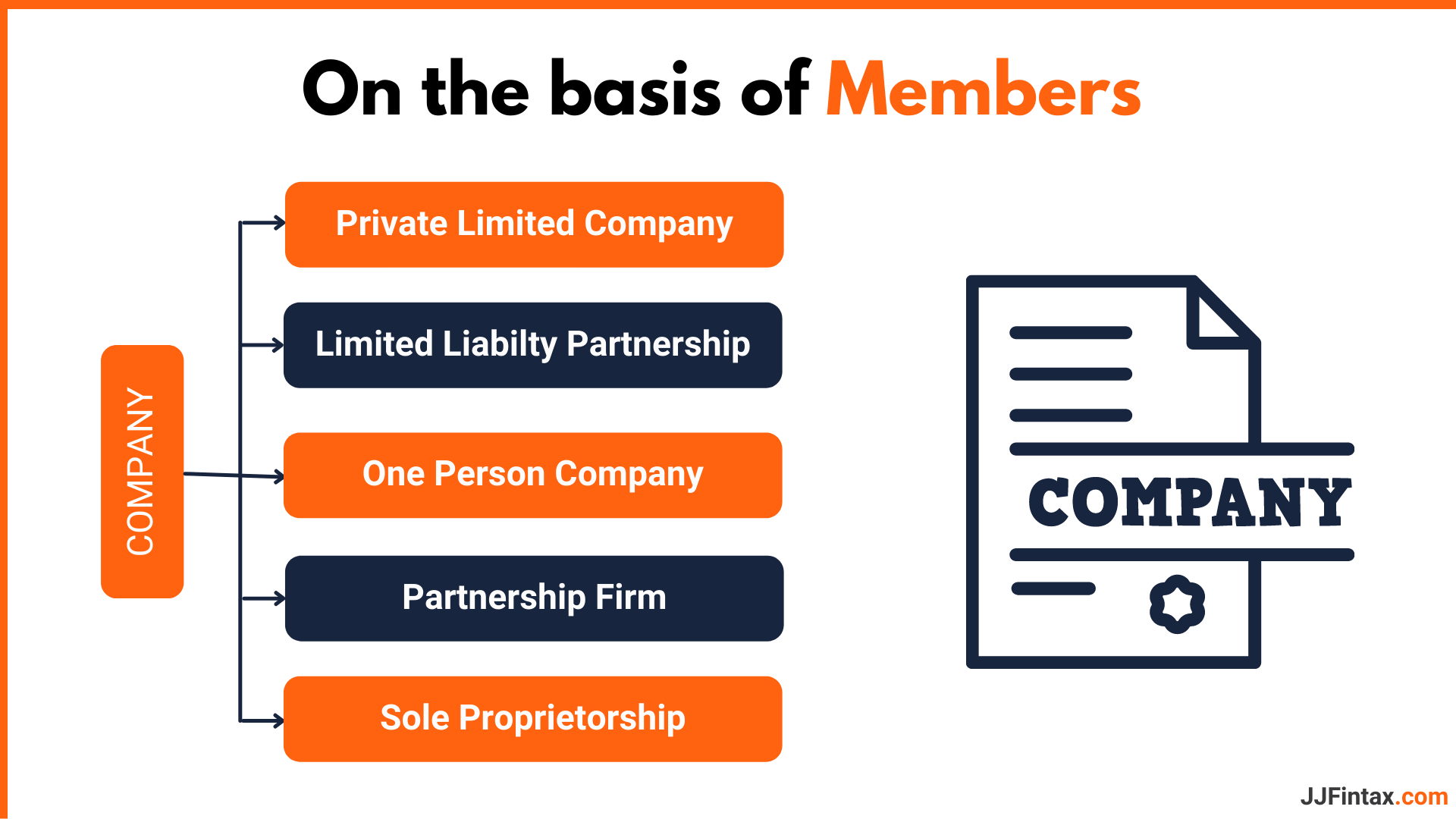 Formation of a Company
A company may be formed for any lawful purpose by:
1. 7 or more persons, where the company to be formed is to be a public company;
2. 2 or more persons, where the company to be formed is to be a private company; or
3. 1 person, where the company to be formed is to be One Person Company that is to say, a private company, by subscribing their names or his name to a memorandum and complying with the requirements of this Act in respect of registration
Steps for Incorporation
1. Reservation of Name
First and foremost step in Company Formation is to reserve a company name. Maybe you have a name in mind that you want to start your business with. There is a possibility that you don't get the same name, so you have to mention atleast 3 or 4 names with MCA.

2. Apply for DSC
The next step is to apply for DSC. Digital Signature Certificates (DSC) are the digital equivalent (that is electronic format) of physical or paper certificates. If you donot have a DSC, then login to JJTax App and apply for DSC. And if you already have a DSC then move to next step.

3. Apply for DIN
The Directors who'd be acting on the behalf of the company will be required to have a DIN(Director Identification number).

4. Filing of Documents and Information with Registrar
Now comes the most important and crucial step ie. Filing the forms (SPICE+ and INC 35). Any mistake in this step can cost your business. There is no room for mistake in this stage, so this has to be done by a person who possess years of experience in this area. That's why we will recommend you JJTax. They have experts who are majorly CAs and possess years of experience in this field.

Note: New requirement of submitting declaration that all subscribers have paid the value of shares agreed to be taken by him and verification of Registered office has been filed. This requirement is needed to be complied with before the commencement of business.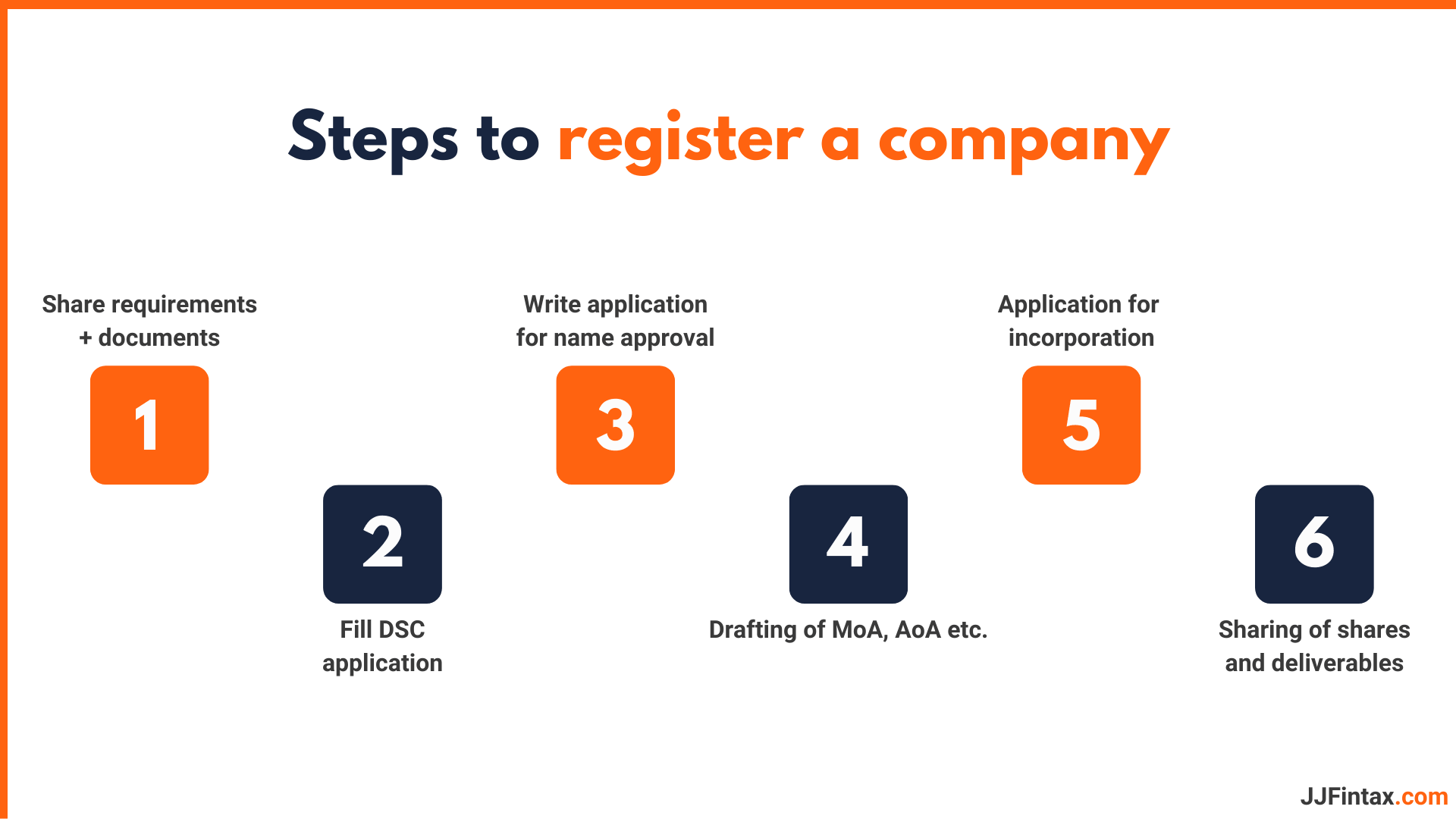 After Incorporation Compliances
After obtaining Certificate of Incorporation from MCA, there are several compliances which needs to be adhered to, otherwise there is serious penalty for non-compliance. These are:

• INC-20A – needs to be filed in case of Private limited companies with 180 days of Incorporation.
• First board meeting – needs to be held within 30 days of Incorporation. Directors are permitted to attend the meeting through video conferencing.
• Bank Account – Companies need to open Bank account at the earliest as the Share capital money has be to deposited into Bank Account.
• Auditor – First auditor has to be appointed within 30 days of registration by Board of Directors. If BoD fails to do so, then the members has to appoint the auditor within 90 days at extraordinary general meeting.
• Share Certificate – The share certificate shall be issued to shareholder within 60 days of Incorporation and the share should be stamped from Registrar.
FAQs
1. What is a Company and what are different types of Companies?
Companies Act, 2013 states that a company means any association of person registered under the present or the previous companies act. It is called a "body corporate" because thse persons composing it are made into one body by incorporating it according to the law and clothing it with legal personality.
Different types of Companies are as follow:
• Private Limited Company
• Public Limited Company
• Limited Liablility Company
• Unlimited Liability Company
• Non-Profit Oragnizations

2. What is MOA & AOA?
MOA stands for Memorandum of Association whereas AOA means Articles of Association. MOA reveals the name, aims, objectives, registered office address, clause regarding limited liability, minimum paid up capital and share capital of a Company. In short, it explains the relationship of a Company with outside world.
AOAs are the necessary documents to be submitted when the company is incorporated with the registrar of Companies (ROC). When AOAs are in conjunction with the MOA, they are called the Constitution of the Company.

3. What is DSC?
DSC stands for Digital Signature certificate. It is needed to file the form electronically with the concerned department. For the purpose of Company Registration of a private company, DSC for one of the Directors is required.

4. What is a Directors Identification Number (DIN)?
DIN (Directors Identification Number), is actually an identification number issued to a Director or a prospective Director of a Company by the Ministry of Corporate Affairs, Government of India. To obtain a DIN, one needs to make an online application to the Ministry of Corporate Affairs and submit the required documents related to Identity and Address Proof. Once the Ministry verifies these documents, the DIN will be allotted to the person.

5. How do I check whether my company is registered or not?
Following the below given steps, you can check the status of the company registration.
Step 1: Go to the MCA website.
Step 2: Go to 'MCA Services' tab. In the drop-down click on 'View Company/LLP Master Data'.
Step 3: Enter the companies CIN. Enter the captcha code. Click on 'Submit'.
Now you will be able to view the exact status of your registration process.

Why JJ Tax
JJ Tax is an excellent platform for filing your ITR. JJ Tax has the most affordable plans and provides a secured platform. ITR preparation require accuracy and zero tolerance of mistakes as one has to be very careful while preparation of ITR.
All the fields have to be correctly filled; otherwise one has to bear high payment of taxes or can get low refund. JJ Tax team consists of professionals who have expert knowledge in the field of taxation. Filing ITRs under the guidance of such professional experts eliminates the risk of any mistake. At JJ Tax, you can get your return filed with accuracy and at your convenience.